PodMatch Review: The Ultimate Podcast Collaboration Tool
Thinking about using Podmatch, but want an honest, in-depth PodMatch review?
I've been a guest on over 100+ podcasts through PodMatch, and now I'm going to share with you my key takeaways. In this Podmatch review, we will explore the ins and outs of this innovative platform designed for podcasters.
As an aspiring podcaster, it's essential to stay updated on tools that can help you expand your reach and streamline your processes. Below we'll dive into an overview of Podmatch, discussing its features and benefits.
We'll also look into the advantages and disadvantages of utilizing this platform versus other choices out there. We'll examine Podmatch's pricing plans and payment policies so you can make an informed decision about whether or not it fits your budget.
Our Podmatch review considers user experience, including ease of use, navigation, customer support, and alternative platform suggestions.
Let's get started with this PodMatch review!
PodMatch Review Table Of Contents:
What is PodMatch?
PodMatch is a revolutionary platform that simplifies the process of finding suitable guests or hosts for podcast interviews. The platform uses automatic interview matching to save you time and resources.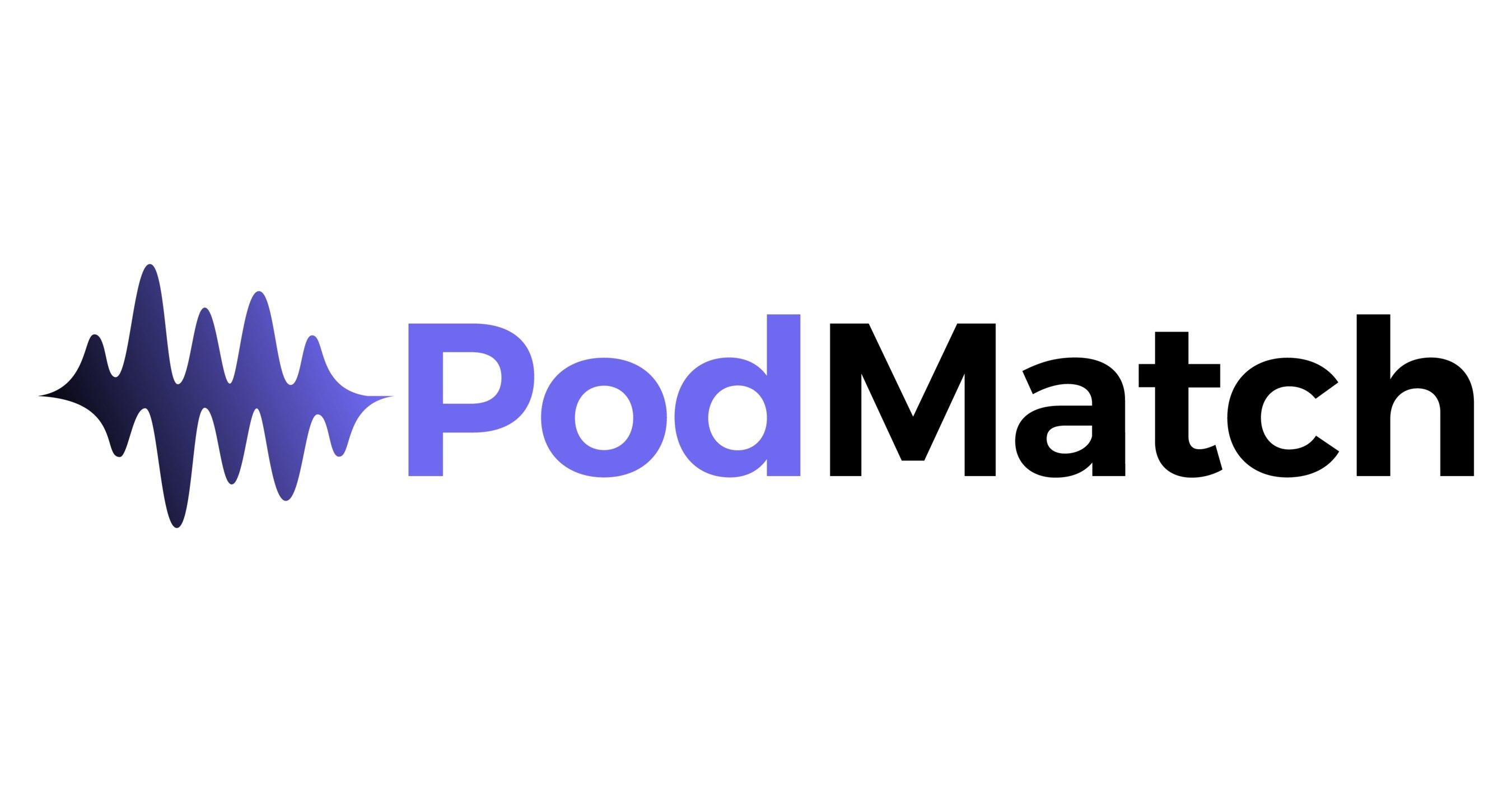 Founded by Alex Sanfilippo, this user-friendly system offers an innovative algorithm to ensure relevant connections are made between podcast hosts and guests. It also provides affordable pricing plans so podcasters can easily find their ideal interviewee without breaking the bank.
When it comes to selecting either a host or guest, PodMatch makes it easy to find the perfect match. Podcast owners have access to detailed profiles of potential guests, which include information about their areas of expertise and previous experience in media appearances.
🚀 Check Out PodMatch:
PodMatch Automatically Matches Ideal Podcast Hosts and Guests for Interviews👏

👉 Click Here to Learn More
Guests can also view details on hosts' podcasts and decide if they would be interested in being featured as an interviewee on one show or another. This allows both parties to make informed decisions before committing time and resources to any project collaboration.
PodMatch offers several membership plans depending on your needs as a podcast owner or guest looking for an opportunity in the industry.
The basic plan gives you access to:
Search functionality for discovering new potential partners.
Contact information for direct communication with other users.
Automated matching suggestions based on preferences you set up in your user profile.
For those who want more features from PodMatch, there is also a professional plan that includes additional benefits such as unlimited messaging tools and priority matches tailored specifically towards your interests within the podcasting world.
Maximizing visibility among other members is key to getting the most out of PodMatch. By creating a complete profile that showcases your expertise, you will have greater visibility on PodMatch.
With its search functionality and affordable membership plans, browsing podcast hosts and guests on Podmatch has never been easier.
Key Takeaway: PodMatch is an intuitive platform for podcast owners and guests to make relevant connections, with affordable plans tailored to individual needs. Leveraging its search capabilities and detailed profiles of potential partners, users can maximize their visibility amongst other members and find the perfect match - all at a price that suits them.
Finding Hosts and Guests on Podmatch
PodMatch offers a convenient and efficient way to browse hosts and guests on its platform. With the help of advanced search functionality, users can easily discover potential podcast guests or hosts that match their interests and expertise.
This allows you to quickly connect with individuals that would be a perfect fit for your message or podcast. The platform grants access to the contact info of those who have been identified by the system simplifying communication between users.
The automatic interview matching process saves time by suggesting potential matches based on preferences set by the user. This allows you to focus more on creating content instead of searching for suitable partners.
The PodMatch platform makes sure that all profiles are complete before being published online so that everyone has a better idea about what kind of host or guest they're dealing with when browsing through the list of available options.
This ensures that people only connect with those who fit their criteria perfectly while avoiding any unnecessary confusion or miscommunication during collaboration efforts.
With the search functionality, it's easy to narrow down results and quickly access contact information.
Each day, PodMatch serves up ideal matches for you to consider. Think of it like a dating app for podcasters. Whether you want to interview others for your podcast or be interviewed on other podcasts, PodMatch does all the heavy lifting.
Creating Profiles on Podmatch
Creating a profile on Podmatch is an essential step for podcast hosts and potential guests. Showcasing your expertise through profiles is key to ensuring that you get matched according to your preferences within your profile settings.
When creating a profile, be sure to include information about yourself and what type of podcasts or interviews you're interested in doing.
Include links to any associated social media accounts or webpages that demonstrate your content, so other users can easily get a better idea of the individual they are looking at for their podcast or interview. This will help other users quickly find out more about who they are considering as a guest or host for their show.
You also want to include your main call to action. At the end of most interviews, you get a chance to plug in a link where people can connect with you. I use this opportunity to drive traffic to my free book funnel.
You can also prioritize matches based on preferences such as topics, interests, experience level, location, and availability.
The Podmatch AI system sends daily tailored match suggestions meeting both parties' criteria, from topic selection to scheduling availability.
The great thing about using Podmatch is its streamlined communication process which makes connecting with potential guests or hosts easier than ever before. With built-in messaging tools like direct messages and group chats, collaborating among users has never been simpler.
🚀 Check Out PodMatch:
PodMatch Automatically Matches Ideal Podcast Hosts and Guests for Interviews👏

👉 Click Here to Learn More
No need for clogging up your email inbox with back-and-forth messages. Details like schedules or topics of discussion beforehand; all these things can be done easily via PodMatch itself.
In order to make sure that you start off effectively with PodMatch, it is important that your profile is complete. This means having up-to-date information regarding yourself as well as including any additional qualifications if necessary (such as awards won).
Additionally, optimizing your search terms within the platform will help increase visibility amongst other users looking for similar content creators/interviewees like yourself.
Creating profiles on Podmatch is an effective way to showcase your expertise and prioritize matches based on preferences. Leveraging the AI-powered matching system, users can benefit from daily match suggestions that save time and effort.
Key Takeaway: Creating a complete profile on Podmatch is key to getting ideal podcast matches. Streamlined communication tools like direct messages, group chats, and AI-powered match suggestions make connecting easier than ever before.
PodMatch's AI-Powered Matching System
A thorough PodMatch review would not be complete without mentioning its automatic interview matching. Podmatch is an AI-powered matching system that revolutionizes the podcasting industry by providing automated interview matches tailored specifically to hosts and guests.
The system saves time and energy for both parties, as it eliminates the need to manually search through countless profiles online.
With Podmatch, users are provided with six new match suggestions every day based on their preferences. The daily match suggestions make it easy for hosts or guests to find a suitable partner quickly and efficiently.
This feature also allows users to prioritize their matches according to what they're looking for in a potential collaboration partner.
For example, if you're a host looking for someone who has expertise in marketing, you can set your preferences accordingly so that only those profiles with relevant experience show up in your results.
In addition, Podmatch offers several time-saving benefits, such as streamlined communication tools which allow users to easily reach out and connect with one another without having to leave the platform.
This makes it easier than ever before for people within the podcasting industry to collaborate effectively on projects together without any hassle or delays due to miscommunication issues or technical difficulties associated with other platforms.
The AI-Powered Matching System offered by Podmatch provides an effective and efficient way to find the perfect match for your project.
Next in this PodMatch review, we're going to look at the built-in messaging tools.
PodMatch features a streamlined messaging system that allows for direct communication between matched parties. This helps to simplify collaboration efforts when scheduling podcast interviews or discussing topics for upcoming episodes.
The efficient tools provided by PodMatch make it easy for podcast hosts and guests to quickly connect with each other, saving time and effort in the process. The messaging platform is intuitively designed, allowing users to easily navigate through conversations without any hassle.
It also provides helpful features such as auto-suggestions of potential matches based on user preferences, which can be further customized according to individual needs.
For added convenience, PodMatch also includes built-in notifications that alert users whenever they receive a message from another user or are invited onto someone else's show as a guest speaker. This ensures that all important communications are never missed or forgotten.
The built-in messaging system will help you stay organized and connected with your potential collaboration partners.
Overall, PodMatch's built-in messaging tools provide an invaluable resource for both podcast hosts and guests alike; allowing them to communicate effectively while streamlining the entire interview-matching process from start to finish.
Whether you're looking for your next big guest appearance or simply want an easier way of connecting with like-minded individuals in the industry – this feature has got you covered.
The built-in messaging tools of PodMatch offer an efficient and streamlined communication process for users to collaborate easily.
Next up in our PodMatch review, we're going to explore how to get started on PodMatch.
How to Get Started with PodMatch
Starting a podcast is an exciting journey, and PodMatch can make it even easier. It's important to have a complete profile on the platform in order to get the most out of your experience.
By offering precise details about yourself or your podcast, you can make connections with other users more effectively.
🚀 Check Out PodMatch:
PodMatch Automatically Matches Ideal Podcast Hosts and Guests for Interviews👏

👉 Click Here to Learn More
Here are some tips for optimizing your PodMatch experience. When filling out your profile:
Provide an in-depth explanation of yourself and the type of content you create to help potential hosts and guests locate you quickly with related keywords. This allows potential hosts and guests to find you quickly and easily by using keywords related to their topic or niche.
Include any relevant links, such as social media profiles or websites that showcase previous work, so that people can see what kind of content they can expect from working with you.
Upload a professional headshot photo along with samples of past projects, if possible, so that others can get an idea of how experienced you are in the podcasting industry before reaching out for collaboration opportunities.
This helps build trust between potential partners while saving time during the selection process since all essential information is readily available upfront.
Finally, don't forget to update your profile regularly. Staying up to date with the latest trends in podcasting ensures that your portfolio accurately portrays what potential collaborators can expect, thus increasing visibility and chances of new opportunities.
Updating frequently also increases visibility within search results which leads to more awareness.
By following the tips and creating a complete profile, you can get started with PodMatch effectively.
This PodMatch review would not be complete without covering a new feature about how to get paid by PodMatch when you release episodes on your podcast.
Key Takeaway: When creating a PodMatch profile, it's important to make sure you include detailed descriptions of yourself and your show, as well as relevant links. Uploading professional photos and samples of past projects is also recommended in order to give potential hosts or guests an accurate representation of who they're working with.
Get Paid Paid to Release Episodes Using Podmatch
The PodMatch system is revolutionizing the podcasting industry by allowing hosts to get paid for releasing episodes. With PodMatch, podcasters can now earn revenue from their shows without having to rely on sponsorships or advertisements.
Here's how it works. Use Podmatch to find guests for your show, book the interview, and then release the interview. Every new episode you release using Podmatch qualifies you for their revenue-sharing program. At the end of the month, the revenue is divided up among all the hosts who released podcast interviews.
So why wait? Get started today by signing up with Podmatch and start getting paid every time you release an episode! According to the PodMatch website, hosts can earn up to $27.00 for each interview they complete through PodMatch!
You can get paid to interview amazing guests and release their interviews to the world!
Moving on to pricing plans for this PodMatch review, let's explore what features and benefits each plan offers.
PodMatch Pricing Plans
This PodMatch review would not be complete without a discussion on pricing. Podmatch Pricing Plans are designed to help podcasters reach their goals of building an audience online and earning money.
🚀 Check Out PodMatch:
PodMatch Automatically Matches Ideal Podcast Hosts and Guests for Interviews👏

👉 Click Here to Learn More
PodMatch offers different pricing plans according to how you plan to use the platform. The three options are host, guest, or both. Let's look at each:
Pricing Option 1. I'm a Podcast Host
If you are a podcast host and looking for guests for your podcast, PodMatch offers two pricing tiers: Standard ($6/month) and Professional ($54/month).
The Standard Plan ($6/month) gives you access to core functionality and features, new daily matches, and 6 new message threads with your matches (every 4 hours).
The Professional Plan ($54/month) offers additional benefits such as access to premium search filters, top profile placement in match and search results, Interview release forms, access to guests' total social follow count, and more!
Pricing Option 2. I'm a Podcast Guest
If you plan to only use PodMatch to land interviews on other people's podcasts, there is a separate pricing structure for you.
The Standard Plan ($23/month) allows you to set up your podcast profile, get access to three new matches every four hours, a video pitch to add to your profile, and more!
The Professional Plan ($54/month) gives you access to everything the Standard Plan offers, plus: total reach stats of podcasts, premium search filters, top profile placement in match and search results, and more!
Pricing Option 3. I'm Both a Podcast Host & Guest
What if you want to do both with PodMatch? Maybe you have a podcast and want to be on other podcasts at the same time. Then this is the plan for you.
The Standard Plan ($29/month) allows you to use PodMatch to both land interviews for your podcast and be a guest on other podcasts. You get three new matches every four hours.
The Professional Plan ($54/month) gives you everything above plus the ability to get more matches and more visibility in matches and search results, and you can participate in the revenue-sharing program as you release new interviews on your podcast.
As you can see, the Podmatch Pricing Plans offer a variety of features to help authors, bloggers, and other content creators monetize their work. Before making a decision on using Podmatch, it is essential to consider the potential benefits and drawbacks.
Next, this PodMatch review will explore the advantages and drawbacks associated with using Podmatch.
Pros & Cons of Using Podmatch
One of the biggest advantages of using PodMatch is its ability to save time.
With automatic match suggestions based on user preferences, finding someone suitable for your podcast can be done in a fraction of the time it would take without this technology.
Additionally, users have access to contact information from all available matches so they can reach out directly if needed. This makes collaboration between hosts and guests much more efficient than searching through multiple sites manually.
Another benefit of PodMatch is that it allows users to create detailed profiles showcasing their expertise in their chosen field or topic area. This provides users with a platform to demonstrate their proficiency and abilities, aiding those who are looking for someone to join or lead an episode of their show in comprehending what they have to offer.
A huge benefit for podcast hosts is to participate in PodMatch's revenue-sharing program. Most podcasters start their podcast as a labor of love and don't have a monetization plan in place. With this new benefit, you can earn money to interview interesting people.
The cost of higher tiers of service (Professional Plan) may be a deterrent for some, but the Standard Plan is an affordable alternative if you are just getting started.
Overall, PodMatch offers many benefits that outweigh its drawbacks, making it an invaluable asset for anyone looking to connect with others within the ever-expanding podcast industry.
Key Takeaway: PodMatch is an AI-powered podcast matching system that can help save time and make connections between hosts and guests easier than ever. Its detailed profiles match suggestions, contact information access, and overall efficiency outweigh the cost of higher tiers of service - making it a great asset for anyone in the podcasting industry.
PodMatch General FAQs
How does Podmatch work?
It works by connecting podcast hosts with relevant podcast guests using their proprietary AI-matching system. As mentioned before, it's like a dating app for podcasters. As you build out your profile, it magically connects you to other like-minded podcasters on the platform.
Who owns Podmatch?
Podmatch is owned by a team of experienced entrepreneurs, marketers, and technologists. The founders boast a wealth of knowledge in the realms of online marketing, content production, and product growth. They are passionate about helping creators build an audience online and monetize their work.
Podmatch is committed to providing the best tools for creators to reach their goals with ease and success.
Who is Alex Sanfilippo?
Alex Sanfilippo is an experienced entrepreneur, online marketer, and content creator. He has built multiple successful businesses and helped thousands of entrepreneurs, authors, speakers, bloggers, and coaches grow their audience online. His mission is to empower people with the knowledge they need to create a life they love by leveraging digital marketing strategies.
Alex believes that everyone should have access to the tools necessary for success in today's world – no matter who you are or where you come from. He ardently desires to assist individuals in attaining their aspirations and objectives.
Do podcasts pay people?
Yes, podcasts can pay people. Podcasts have grown to be a widely consumed form of media, and those who produce them can generate revenue by selling ad space, charging subscription fees, or obtaining sponsorships from podcast networks.
Additionally, some podcast networks offer sponsorships that allow podcasters to earn money from their content. With the right platform and audience engagement, it is possible for podcasters to make a steady income from their work.
PodMatch Review: Final Thoughts
Alright, it's time to summarize this PodMatch review. Overall, Podmatch is a great platform for podcasters looking to find the right guests for their shows. It provides a range of useful features that make it simple to find the perfect guest for your podcast.
Overall this Podmatch review has highlighted many positive aspects about the service which makes it worth considering if you're looking for an efficient way to host your podcast.
If you're looking to grow your online presence and monetize your message, Podmatch is the perfect platform for you. Sign up now to start connecting with an audience and earning money from your content!
Click Here to Learn More about PodMatch
What did you think about this PodMatch review? Let us know!
🚀 Free On-Demand Video:
How to Build an Online Business as a Writer or Coach (The Low-Tech Way) That Creates Time and Financial Freedom
(Without Feeling Overwhelmed by Technology, Self-Doubt, or Too Many Choices)
Watch Now