FREE, ON-DEMAND VIDEO TRAINING:
How to Build an Online Business as a Writer or Coach (the Low-Tech Way) That Creates More Time and Financial Freedom
(Even If You're Currently Faced with Too Many Options, Self-Doubt, and Limited Time and Resources)
GET THE FREE VIDEO
Here's What You'll Discover
SECRET #1
The Simple
Low-Tech Way to Earn Money with Your Message (Without a Big Launch or Complicated Funnel)
Ready to stop wasting time, energy and money learning complicated software? Ready to learn the easiest "low-tech" way to share your message and get paid for it? Here's what to do instead.
SECRET #2
The Little-Known Secret to Overcoming the Imposter Syndrome (and Why "Fake It Until You Make It" is Bad Advice)
Don't try to "fake it until you make it." it doesn't work and it only increases the feeling of imposter syndrome. Instead, you'll discover a simple secret to increase your confidence that actually works!
SECRET #3
Why the Shiny Object Syndrome is Not Your Fault (and How to Fix It Starting Today)
The "shiny object syndrome" is a real thing, but's here's the truth: it's not your fault. Once you discover this little-known secret you'll never again struggle with focus!
Meet Your Online Business Coach
Hey There!
My name is Jonathan Milligan, and I'm your online business mentor. I'm passionate about helping writers and coaches build a business that aligns with their purpose and values. I've been in the online business space for over a decade and have worked with thousands of writers and coaches to help them achieve their goals.
I know firsthand the challenges of building a successful online business and have made it my mission to help others avoid the mistakes I made along the way. I've been featured in publications such as Forbes, Entrepreneur, and The Huffington Post, and have spoken at conferences on topics related to online business.
My goal as your mentor is to help you build a business that aligns with your values and allows you to make a positive impact in the world. Whether you're just getting started or are looking to take your business to the next level, I'm here to guide and support you every step of the way.
Here's the great news: There's no magic bullet to success: it's just about personalizing your approach that is in alignment with YOUR strengths and following a framework that works!
And now, you're not alone.
What a Few of Our Students Have to Say About Our Trainings: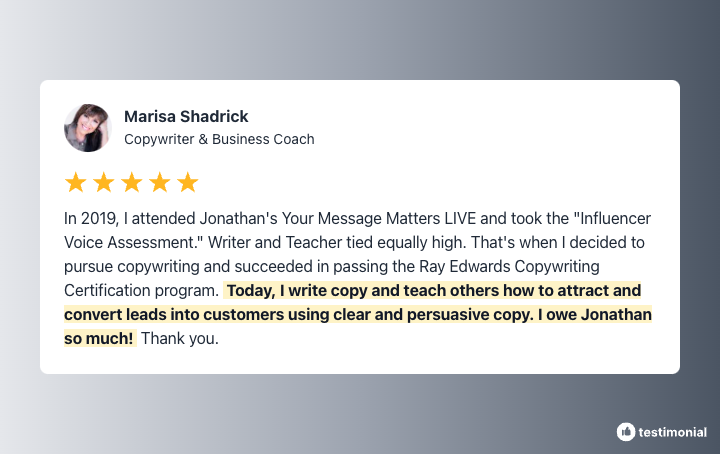 Who is This Training for?
This is for you:
If you're brand new to the idea of starting an online business with your message.
If you have no audience, no website, and little to no email list, you're in the right place!
If you've tried to build a business online, and, well, struggled with it a bit.
If you've started a blog and got very little traction
If you started a podcast but couldn't attract enough listeners
If you've tried launching a course or coaching program only to get, well, crickets.
If any of the above describe you, then you're in the right place!